Foshan excellent chemical complete sets of equipment wish the people of the whole country a happy New Year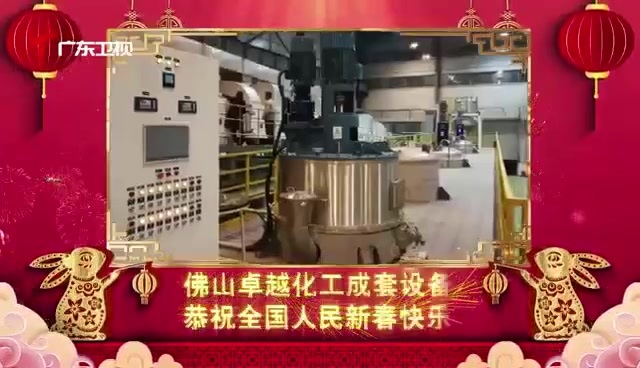 Foshan Zhuoyue Chemical Complete Equipment Co., Ltd. is a joint-stock enterprise jointly established by the main technical force and business backbone of Foshan Tenghui Boiler Manufacturing Co., Ltd. in August 2015 in accordance with the requirements of the Company Law. The core technology comes from Taiwan and Japan. Mainly engaged in the design, manufacture, installation and commissioning of complete sets of production equipment in the fine chemical industry such as resins, adhesives, coatings, inks, and additives, undertake the design-procurement-construction (EPC) general contracting project, the products are sold to Japan, South Korea, Singapore, Indonesia, Malaysia, Thailand, Vietnam, Taiwan, Bangladesh, Uzbekistan and mainland China and other markets.

The company has set up Foshan head office and Changzhou branch. Foshan head office and Foshan factory are located in Nanhai District, Foshan City, Guangdong Province. Changzhou branch and Changzhou factory are located in Xinbei District, Changzhou City, Jiangsu Province. Foshan Tenghui Boiler Manufacturing Co., Ltd., the parent company of Excellence Company, holds China's D1 and D2 grade pressure vessel manufacturing license and D1 and D2 grade pressure vessel design license, pressure pipeline (GB1, GB2, GC2) design license and installation license, and industrial boiler (B grade steam boiler, organic heat carrier boiler, hot water boiler) manufacturing license. The company now covers an area of 19000 square meters, a plant area of 15500 square meters, and an office building area of 1900 square meters. It has 143 employees, including 28 engineering and technical personnel, 38 certified welders, and 15 various testing personnel; all kinds of production Equipment, 105 sets of testing equipment (sets). The company has established a sound chemical machinery and equipment and boiler design and manufacturing quality assurance system, with a strong chemical equipment and boiler manufacturing capacity."
---